finkle street tap & grill
great food.
great service.
great atmosphere.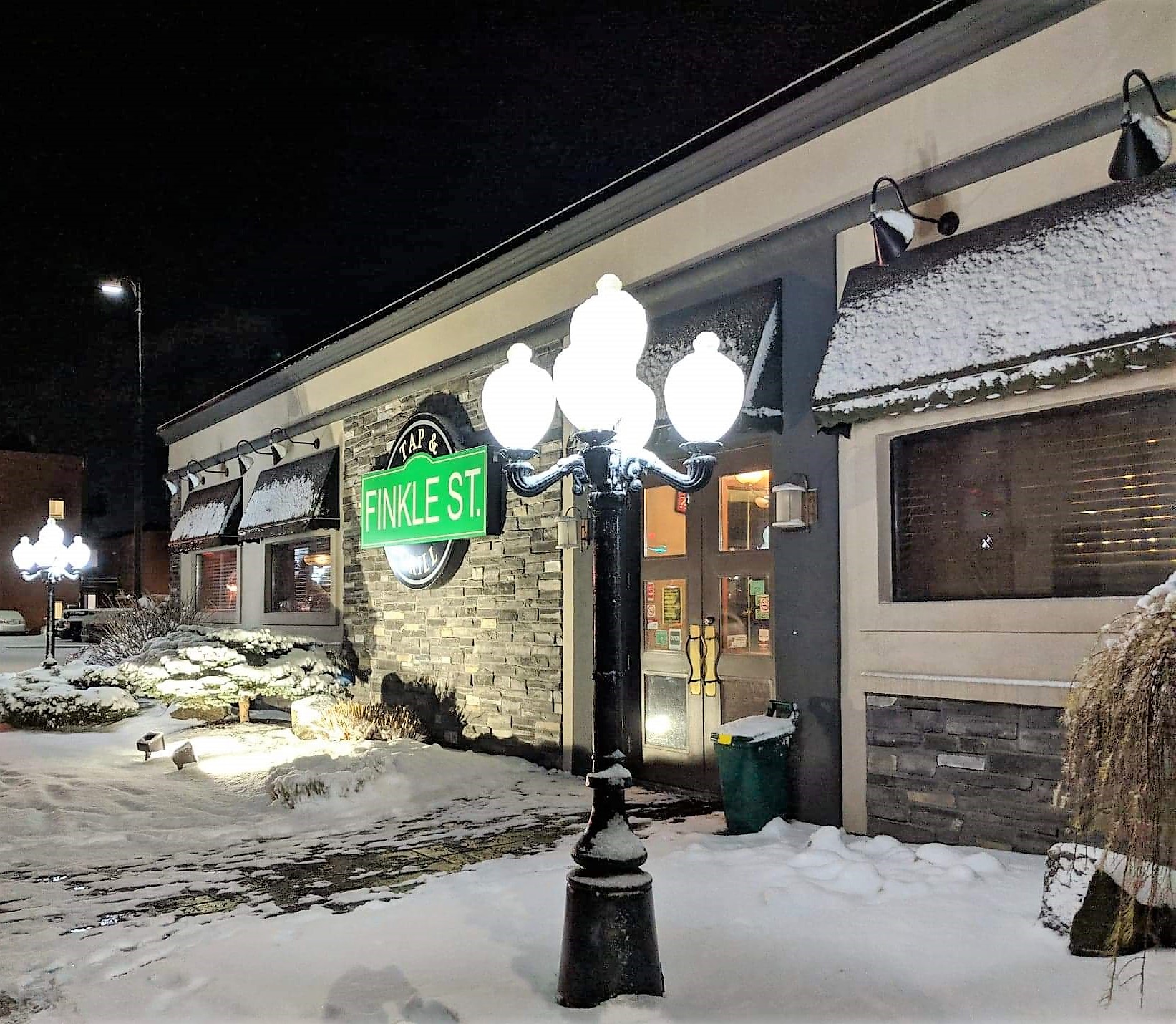 Phone
(519) 290-9100
Location
450 Simcoe Street
at corner of Finkle Street
Woodstock, ON N4S 1J8
Hours
Su-M 11:30a–8p
T-Th 11:30a–9p
F-S 11:30a–9:30p
Located in Woodstock, Finkle Street Tap & Grill is a casual, yet classy, friendly dining experience offering fresh food with a twist.
Photos by us
Finkle Street Tap & Grill opened in March 2016 and is located downtown Woodstock. Since then, our team has been serving quality interpretations of classic dishes. Independently owned and operated by Jenny, Finkle Street is restaurant where our focus is on quality fresh ingredients.
great food and great experience! good variety of gluten free options!
Tried the Finkle Street Tap & Grill on the way home from my daughters graduation in London. Wednesday night and the place was full! Atmosphere was wonderful, lively very comfortable and the staff were top notch. Even though it was busy, service was exceptional as was the delicious food. Pizzas were to die for! Great variety and all of it extremely good. Our entire party was very pleased and would definitely go back again. My daughter is celiac and this has to have been one of the best restaurants with the a variety of gluten free options! Gluten free desert brownie was exceptional. Highly recommended! - TripAdvisor
Fantastic food, fantastic service
We love this place, haven't had a bad meal there ever. In fact, everything we have had has been amazing, my go-to though is their pizza, hand made, fresh, stomach is rumbling right now just thinking about it.
Best part about the place is not the food though (which is excellent), its the incredible, friendly, genuine service. Do yourself a favour and be sure to visit! - TripAdvisor
We held a surprise 60th Anniversary party at Finkle Street and it was absolutely perfect! We were a party of 22 and everyone got their meals at the same time and each and every meal was perfect! A stunning achievement considering we only had one waitress. Jenny was attentive and caring and even helped with keeping kids occupied by suggesting they watch their pizza being made! She also helped us with the cake and ensuring that everyone had a memorable experience, including taking our group picture! Brodie was amazing in planning our dinner and providing options to make our experience perfect for us including setting up a table for the cake, flowers and pictures. I have been to many group celebrations and sports parties in restaurants and by far this experience tops them all! Thank you so much for making George and Donna's 60th Anniversary perfect! - TripAdvisor
great food and better service
Went for a work Christmas party, about 46 of us. Jenny the owner was our server and was very attentive. My boyfriend and I are vegan and she told us all of our options. None of the apps out for everyone were vegan so Jenny had the kitchen make us some amazing bruschetta. The pasta we had was yummy and the brownie for dessert was rich and delicious! Jenny was pleasant and made the evening very enjoyable. The food was top notch and we will be back in the future! - TripAdvisor
A New favorite
The staff at Finkle St. go above and beyond. They're attentive and warm, work extremely well as a team, and don't let you go unnoticed. We recently moved to the area and generally go to KW for dinner as the selection around Woodstock is pretty sub par. However, Finkle St. has changed what it is to dine in Woodstock. The food and atmosphere are similar to those found in the better restaurants of bigger cities, and although some reviewers have mentioned the prices being too high, we found they are spot on when considering the quality of food and the amazing service. Do not overlook this restaurant! - TripAdvisor
My wife and I are extremely happy that a restaurant such as the Finkle Bar and Grill, has opened up in Woodstock. The food and service have been consistently great. Quality appears to be the watchword from point of entry to receiving the cheque. The owner Jenny is always open to - and, in fact invites - feedback on the food they serve, be it positive or constructive. No prima donna attitude at Finkle, from Jenn or the wait staff (who all happen to be courteous and professional, without being pretentious). If something is not up to par (which happens at any restaurant from time to time) they graciously rectify the issue, without fuss or condescension. I enjoy the casual, yet professional atmosphere, which is neither stifling with pretentious, nor uniformly bland. Whether you're a vegetarian or a meat aficionado, you'll be satisfied with the variety, creativity and quality of the food on offer (I'm a particular fan of the lamb shank, beef ribs, all the pizzas and mussels). Also the risotto balls for a light meal. I would advise making reservations on Friday or Saturday. However, I have been there many times (at dinner hour) without a reservation and Jenny (or Brody the manager) have always managed to fit us in - even if it meant having to sit at the bar and enjoy a craft beer or glass of wine) while we waited for table to be freed up. I hope you go and enjoy yourself as I have on countless occasions and become a regular patron. - TripAdvisor
RESERVATIONS
Call (519) 290–9100 to make reservations.
Reservations recommended especially for parties of 6 or more.